Amor Pork Prime Rib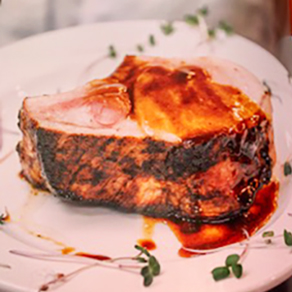 (Taken from the Spanky's Stone Hearth Cookbook featuring Amor Pork)
5 lb pork prime rib (set at room temp)
2 cups all-purpose BBQ rub
1 cup Worcestershire sauce
1 cup pan drippings
¼ cup red wine
2 Tbsp corn starch
1 Tbsp cold water
Preheat oven to 400°. Very generously apply BBQ rub all over pork prime rib.
Place pork in roasting pan cover with Worcestershire sauce.
Cook in 400° oven for approximately 20 minutes. Turn oven down to 250° and cook pork until it reaches an internal temp of 130° (approximately 1 hour).
Remove from oven and place on a wooden cutting board to let rest.
Pour drippings from roasting pan in saucepan add red wine. Bring to boil and let simmer. In separate bowl, mix cornstarch with cold water until combined .Slowly whisk cornstarch mixture into hot pan drippings, simmer until desired thickness.
Spoon sauce over pork to serve.
*Let pork rest for 15 minutes prior to serving to achieve the best flavor without drying out.