Spinach Salad with Bacon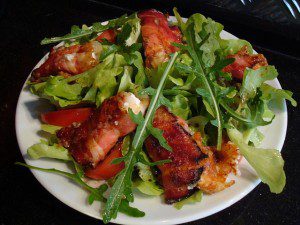 Dressing:
1/3 cup vegetable oil
1/3 cup vinegar
2/3 cup sugar
3 teaspoons prepared mustard
1 teaspoon salt
1/8 teaspoon pepper
1 med mined onion
Salad:
2 (10oz) fresh spinach
1 pound bacon
6 eggs
½ package dressing mix
Mix dressing and let stand in fridge over night. Wash spinach and tear into bite size pieces. Fry bacon crisp and crumble. Boil and chop eggs. Toss in serving bowl spinach, bacon, eggs and dressing mix. Add dressing just before serving. Serve with Loin Roast or Baked Pork Chops. This recipe can be cut in half.