Split Pea and Ham Soup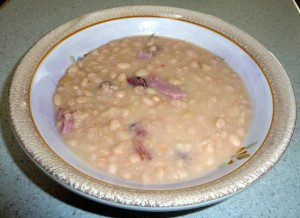 1 lb. dried green split peas
5 c. chicken stock or canned broth
5 c. water
1 meaty ham bone or 2 smoked ham hocks
2 ribs celery, leaves included, diced
3 tbsp. chopped fresh Italian (flat-leaf) parsley
1/2 tsp. crumbled dried tarragon leaves
1/4 c. unsalted butter
1 c. diced carrots
1 c. diced onions
5 cloves garlic, minced
1 leek (white part only), rinsed and sliced
2 tbsp. dry sherry (optional)
1/2 tsp. freshly ground pepper
Rinse split peas in strainer, then combine with stock and water in large soup pot or slow cooker. Bring to boil.Add ham bone, celery, 1 tablespoon parsley and the tarragon. Reduce heat to medium-low and simmer, partially covered, stirring occasionally, 45-60 minutes.
Melt the butter in a saucepan over medium-low heat. Add the carrots, onion, garlic and leek. Cook until the vegetables and the split peas are tender (about 30 minutes). Simmer, partially covered, 30 more minutes (or if using a slow cooker, it may be left for 2 or 3 hours.
Remove the soup from the heat. Remove the ham bone and shred the meat from the bone, removing any excess fat. Return the meat to the soup.
Add the sherry, pepper and remaining 2 tablespoons parsley. Heat through, and serve immediately.
Submitted by: CM
Makes 6 servings.