Sweet and Sour Pork Chops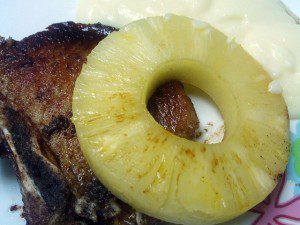 3 lbs. pork chops
4 onions, diced
1 can pineapple chunks
1/2 cup vinegar
1/2 cup brown sugar
4 tablespoons soy sauce
1/2 teaspoon freshly grated ginger
1/4 cup cornstarch
1 1/2 cups water
1 can water chestnuts
1 green bell pepper
salt and pepper, to taste
In a dutch oven or large skillet, brown the pork chops. Add onions, juice from the pineapple, vinegar, soy sauce, sugar, ginger, salt and pepper.
Cover pan and simmer for 1 hour or until pork chops are tender.
Set pork chops aside.
Combine cornstarch and water, then stir into pan; add water chestnuts, bell pepper, and chunks of pineapple. Bring to a boil and cook until sauce has thickened to desired consistency. Add pork chops and cook until heated through.
Submitted by: CM of cooks.com