Spare Ribs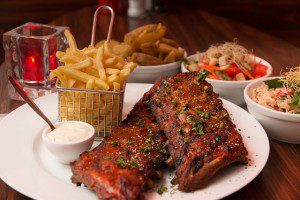 Spare Ribs
Season ribs with seasoned salt. Place a single layer of ribs in pan. Pour 1 cup of water over top of the ribs. Add ¼ cup of liquid smoke. Cover and bake at 325 degrees for 1 ½ hours. Take pan out of oven and uncover. Drain. Cover ribs with 1 bottle of your favorite BBQ sauce. Place pan back into oven (uncovered) and bake at 325 degrees for 1 hour.
St. Louis Style Spare Ribs
Seasoning Salt
2 C water with 1/4 C liquid smoke
Barbecue Sauce
Aluminum Foil
1 full rack of St. Louis Style ribs generously feeds 3 people.
Season both sides of the rack of ribs with seasoning salt of your choice. Lucy usesLawry's. (Cover and refrigerate overnight if possible.) Set oven to 350 degrees. Place ribs in shallow pan; add the water with the smoke added. Cover with foil and bake for 1 1/2 hours. Remove foil, drain liquid in bottom of pan and spread ribs with your favorite barbeque sauce. Bake uncovered 1/2 hour, turn ribs, spread more sauce, bake another 1/2 hour - enjoy!
For Baby Back Ribs
Follow same recipe as above for St. Louis Style ribs, only reduce cooking time by 1/2 hour. Also, you can start the baby back ribs in the oven and finish these on the grill, adding your babrbeque sauce the last 1/2 of baking time. Remember, the more sauce you have on your ribs, the more they will burn if the heat is too hot under your ribs. It is the sugar in the sauce that burns.
Other Grill Favorites
Loin roast, Ham slices, and Side Pork